Above Painting: The Oracle, 1880, Camillo Miola (Biacca). Oil on canvas, 42 1/2 x 56 1/4 in. The J. Paul Getty Museum
Magi tool box found in Pompeii
Smithsonian Magazine had a great posting on a sorceress box found in a garden in Pompeii.  The hinges were found from the box that had rotted away.  Archaeologists were able to pin it to a female magi due to the contents that had to do with fertility.  
My imagination has immediately gone into high gear. 
Movie treatment: 
Title:  Liz Morgana and the Sorceress Box 
Grad student Liz Morgana is assigned to to the investigation of the Sorceress Box recently discovered in Pompeii.  Liz does an intricate study of the box, and accidently becomes pregnant after using a spell and amulet that she finds in the box.  Todd, her creepy boyfriend, is suspicious and accuses her of being with someone else.  The box contains instructions which she tries over and over, and to her dismay all the female students in her Archaeology 101 class, that she teaches on Tuesday and Wednesdays, are now with child.    The story is picked up on a local news station.  The headline screams:  THE IMMORALTITY OF ARCHAELOGY.  Liz Morgana is outed by her boyfriend Todd as being behind the miraculous pregnancies' on campus.  She becomes a laughingstock, but she is soon contacted by women who try to buy her services to make them pregnant.  They are desperate and will pay her to use the Sorceress Box.  She is sued in court as being a fraud.  The trail begins, and then comes to an abrupt halt when the 70 year old MALE judge becomes pregnant as well.    
end –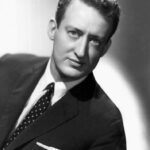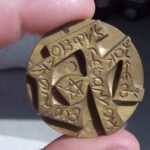 OK, I got carried away.  However, magic amulets I have seen before.  Once upon a time… I was standing in front of the movie theater on Lake Street in Oak Park, Illinois.  The ushers same out and handed out this medallion.   It was made out of a cheap plastic in the color of bronze.   This was a big thing for a seven year old.  It was a promotional item for the 1962 movie Zotz.   The plot is about Jonathan Jones, a professor of ancient languages that comes into possession of an ancient coin that has unusual power.  Tom Poston (a great comedian, by the way) starred in the leading role and you may remember him in the 70s and 80s in supporting roles alongside Bob Newhart as goofy but big hearted characters.  
I STILL HAVE THIS AMULET – SO BEWARE!
Objects that have power are not unusual from ancient times.  Somehow, humanity has a natural to attribute power to such things.  Anybody remember the curse tablet (Latin: tabella defixionis)?   It was a sheet of lead where you could ask the gods to do horrible things to a person that may have wronged you.  The ancients used to roll it up, and shove it into a crack on the wall of a domus owned by the offending individual.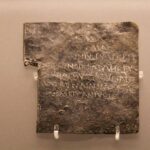 I did this to a particularly odious VA director in Kansas and his creepy administrative assistant. 
(I got you thinking…haven't I?)
I am now laughing manically like a villain in a 1930s cartoon.   Pause.  I feel better!  
I can give  you one more example of this type of thinking.  You can watch it on YouTube  and stars two actors that you may be familiar with – Robert Picardo from Star Trek Voyager and Megan Markle, now Duchess of Sussex.   Yes, the one married to Harry.     
This is an outstanding video on the power of curses.  Please take the time to watch it.  And to any of you that are out to get me…remember…I still have the amulet.  
"ZOTS!"